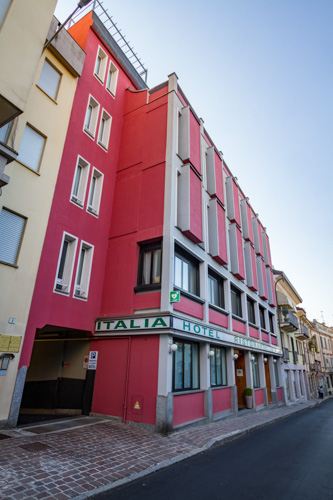 RESERVED CUSTOMER PARKING It's a paying service, reservation is strongly recommended. Parking is located behind the building. The entry has an automatic barrier, the area is monitored by CCTV. Parking places are in the open. A covered parking place can be reserved (best solution for motorcycles). Entry to parking lot measures 250 cm wide and 250 cm high. If your vehicle is larger, contact us for an alternative solution. Please note that it's mandatory to deliver your car's keys at the reception in order to use the reserved parking
OTHER PARKING: there is free parking all week on Via Mazzini except for the nights between Wednesdays and Thursdays scheduled for street cleaning.
In Piazza Trieste just a few metres from the hotel, there is pay parking (blue lines) except for a few free spaces for cars (white lines). Parking is prohibited on Tuesday and Sunday mornings for the historic city market.
Buses may park free in Piazza caduti e dispersi in Russia, Maps. Maps.
We advise you to contact us in advance in order to reserve a proper place in collaboration with the Municipal Police.
GETTING TO AND AROUND IN STRADELLA
Train
The hotel is just 200 metres from the Stradella station. Exit the station, go through the underpass, turn left (petrol station) then turn right in Via Mazzini. Look up. We are the building with the gigantic Italian flag! Look for the timetable and the best route to reach us on the Trenitalia or Trenord websites Trenitalia or Trenord. A tip: the best stations for changing trains are Voghera and Piacenza which are stops for all the most important lines.
BUS
See www.arfea.it or contact the ticket office in Stradella listed on this page
Auto
AUTO exit toll road A21, follow the signs, only 2 km from the tollbooth.
Carsharing
Check with BlaBlaCar, if you are lucky you will find a ride at the right time!
Here is a list of taxis and hired cars with drivers that we use. Contact them directly or call us and we will look after everything.
Mario Maga - Cell. +39 335 276401- www.magaauto.it - info@magaauto.it Piscina Graziella hired cars with driver. Cell 3356132590
Taxi Fabio Oltolini - Cell. 3935635509 Mail fabiodriver76@libero.it
Taxi limousine service - Paganuzzi Giuseppe** tel. 0523884327 cell. 3336265967
Taxi - Stefano Faravelli tel. 349 7828991 or 331 4441934
Ditta Tacconi Fabrizio **CEL. 328.0289494 CEL. 331.2065614 - email - web
**accepts payment by credit card
Car hire, shuttle buses, vans and buses – Stradella and surroundings
The best way to visit the Oltrepò Pavese is to hire a car and travel around at will.
Autonewsquad - CaegiAutonoleggio - DellavalleBus - 189Autonoleggio - AutoserviziBotti
Hire an e-bike (pedalling electrically assisted) in the Oltrepò Pavese.
Hotel Italia has one e-bike (pedalling electrically assisted) handy for short trips in the area. But there is much more. We rent mountain bikes with pedalling electrically assisted for your excursions in the hills, and around the fields and vineyards or for a marvellous organized tour.
Special airport: how to reach us
Malpensa
By train: you can check the fastest connection on Trenord or take the Malpensa Express line to the Milan Central Station and then look for a connection to Stradella on the Trenitalia and Trenord website or again the Malpensa Express, this time for Milan Cadorna, and then by metro to Milan Rogoredo station with the direct and fastest railway lines for Stradella. Attention: Stradella can also be reached by bus directly from Malpensa. For schedules and costs see www.malpensashuttle.it.
Map of the Milan Metropolitana
Linate
You can reach the railway stations in Milan by bus. For schedules and costs see www.milanolinate-airport.com and then search on Trenitalia and Trenordfor the fastest connections to Stradella.
An alternative is to contact a taxi or rent a car.